FREE REFURBISHED SAMSUNG SSD 970 2TB AND/OR SSD 860 QVO 4TB - While stock last. Hurry Up !! Promo
Whether you're in your room or the outdoors, the Bose SoundLink Revolve+ Bluetooth Speaker immerses you in dynamic sound. With a flexible handle and soft materials to stand up to bumps and falls, the Soundlink Revolve+ lets you take your music with you wherever you go.
Key Features
Backed by a highly-efficient transducer, omnidirectional acoustic deflector, and dual-passive radiators, the Bose SoundLink Revolve+ Bluetooth Speaker lets you enjoy loud and lifelike sound.
Equipped with a flexible fabric handle, the Revolve+ Bluetooth Speaker can be easily carried along for the on-the-go music streaming.
The SoundLink Revolve+ Bluetooth Speaker underwent a single-extrusion process to eliminate seams, allowing you to enjoy sound with uncompromised clarity.
On a full charge, this Bose Bluetooth Speaker is capable of up to 12 hours of battery life.
Press and hold the Revolve+ speaker's multi-function button and access Siri or Google Now's voice input without having to reach for your phone.

What's In The Box?
1x SoundLink Revolve+ Speaker
1x USB Power Supply
1x USB Cable
1x AC Power Adapter
---

Deep. Loud. And immersive, too.
Meet SoundLink Revolve+, the best performing portable Bluetooth speaker from Bose yet.
This true 360° speaker was engineered to spread deep, jaw-dropping sound in every direction. That means, when everyone stands around it, everyone gets the same experience. If you set it near a wall, sound will radiate and reflect around the room, immersing you in that same feeling you felt at your favorite concert. And with a flexible handle, it's designed to go wherever you want to bring the music.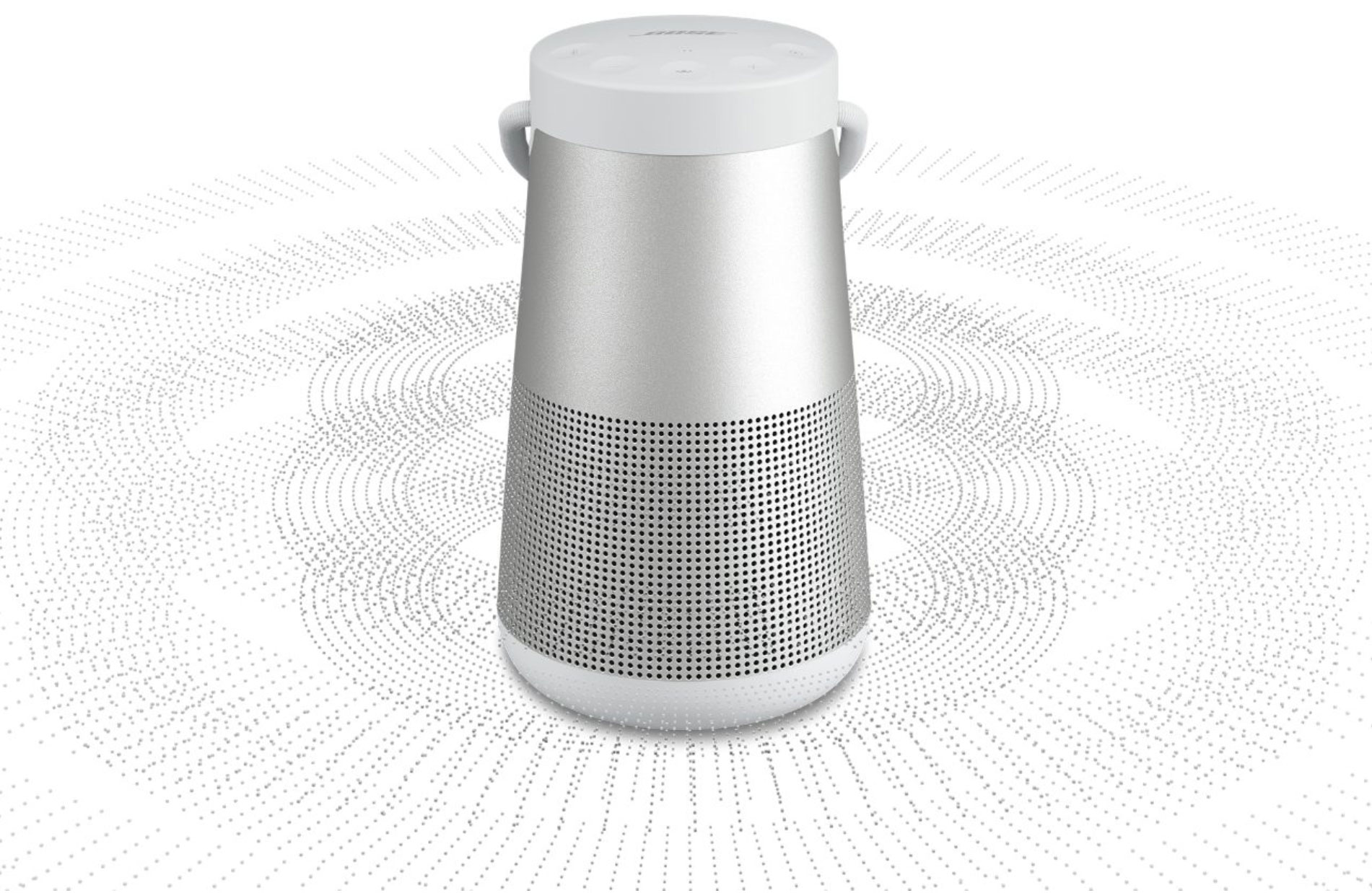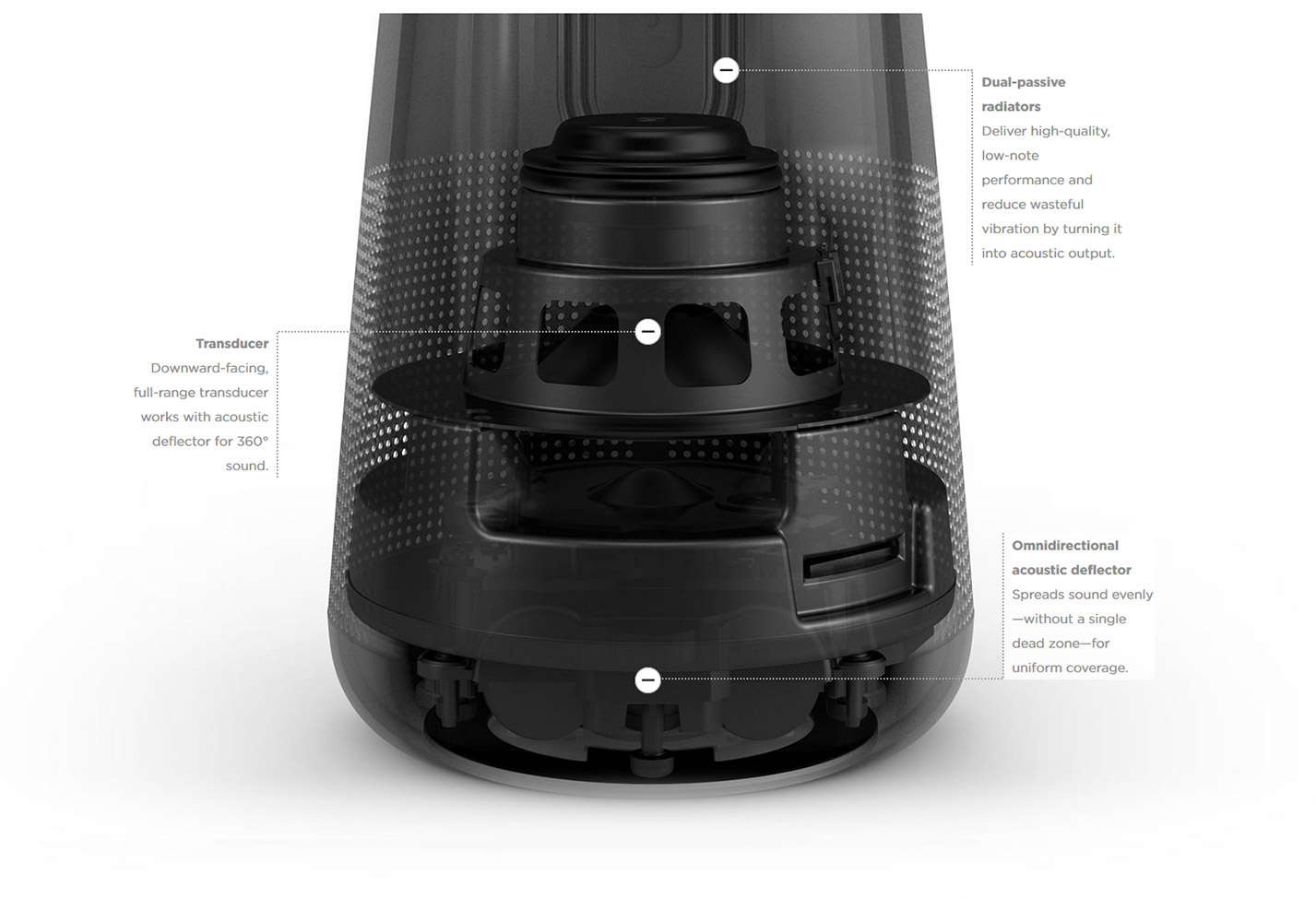 More to hear. More to share.
Don't let its size fool you. This pint-sized enclosure is packed with more technology than meets the eye. A highly efficient transducer. Dual-passive radiators. An
omnidirectional acoustic deflector. All of which simply means you'll get lifelike sound … and real-life goosebumps.
SINGS IN THE RAIN
You're not afraid of a little water. Your speaker shouldn't be either. SoundLink Revolve's water-resistant design means you can use it more
places without worrying, like at the pool or by the kitchen sink.
BUMPERS FOR BUMPING
You're not perfect. And with this speaker, you don't need to be. No worries if you knock it over, toss it in your bag or set it down a little harder than you meant to. Soft materials let you bump worry-free.
ALL SOUND. NO SEAM.
No detail is too small. Not even a single seam. Notice our grille doesn't have one. That's because we created a new single-extrusion process to eliminate it—leaving nothing but beauty.
TOTALLY TOTE-ABLE
A flexible fabric handle makes SoundLink Revolve+ easy to move. And it feels good, too. That's because we meticulously chose every material for this speaker—right down to the soft, smooth buttons that ensure every interaction feels as natural as you know it should.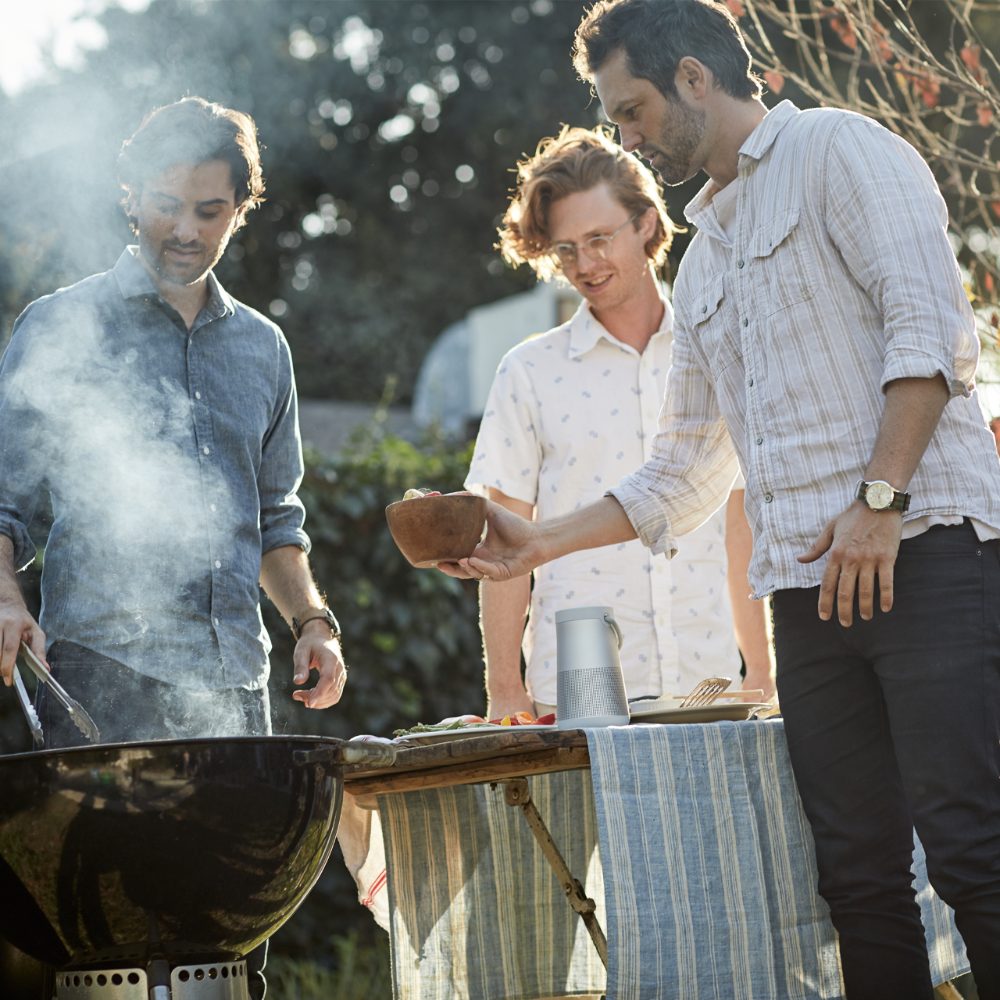 Packed with power
A portable
Bluetooth
speaker needs impressive battery life. This one delivers. The rechargeable lithium-ion battery plays up to 16 hours—for full-day listening. Sure, some other speakers may play longer, but not without compromising the deep, powerful bass you'll get from Bose.
Which one is right for you?
Our two 360° SoundLink speakers are similar. There's SoundLink Revolve and SoundLink Revolve+, which
plays louder and longer and includes a fabric handle for easy portability.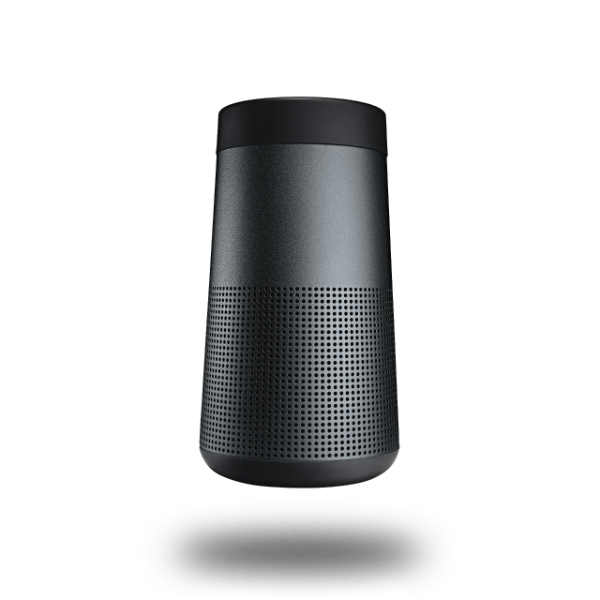 SOUNDLINK REVOLVE
BLUETOOTH
SPEAKER
Battery life: up to 12 hours
5.97" H x 3.24" W x 3.24" D, 1.46 lbs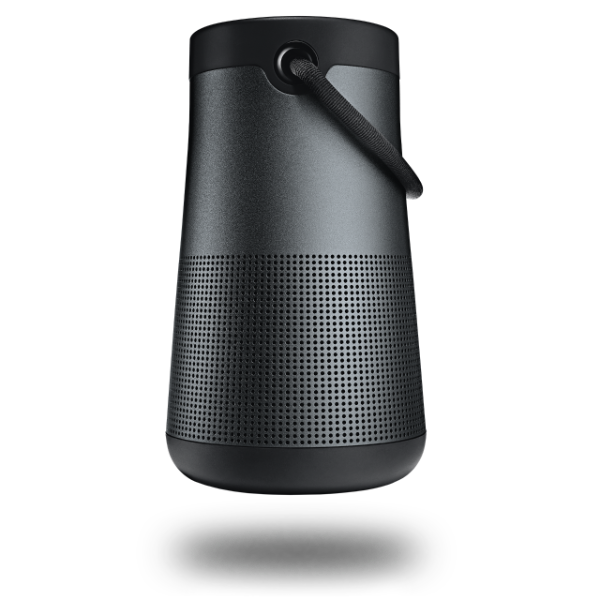 SOUNDLINK REVOLVE+
BLUETOOTH
SPEAKER
Battery life: up to 16 hours
7.25" H x 4.13" W x 4.13" D, 2 lbs
Dimensions/weight
Speaker:
7.25" H x 4.13" W x 4.13" D (2 lbs)
Inputs and outputs
3.5 mm auxiliary input
Micro-B USB port
Additional details
Wireless range up to 30 ft (9 m)
Battery life up to 16 hours
WHAT'S IN THE BOX
SoundLink Revolve+ speaker
USB power supply
USB cable
AC power adapters